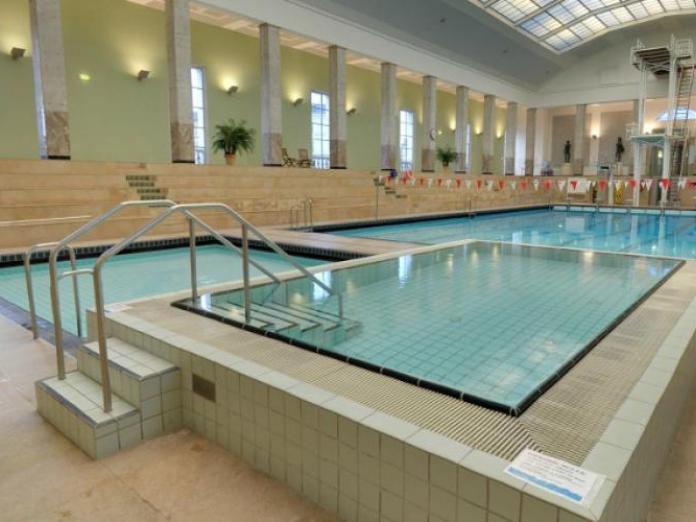 Øbro-Hallen is currently closed and under renovation. It will reopen i 2024.
Open every day of the week, Øbro-Hallen offers everything the heart desires when it comes to water and wellness activities. It is a place where you can unwind in a setting not quite like any other. 
What we are about
Opened in 1930 by King Christian X and prime minister Thorvald Stauning, Øbro-Hallen is the first public swimming pool in Denmark centrally located in the cosmopolitan area of Østerbro. Built in neoclassicist style, the swimming area is a majestic hall of marble pillars, sculptures, palm trees and an arched ceiling with skylight windows. With its central location, historic significance and architectural character, it is a preferred choice for locals when it comes to swimming and wellness. Øbro-Hallen is located right by the central park Fælledparken and near the local sports and cultural institutions of Parken Sport and Entertainment, Krudttønden, Østerbro Stadion and Theatre Republique. 
What we have to offer
Øbro-Hallen offers a variety of water and wellness activities. In the swimming area, you will find the main 25 metre-pool with a depth of 1.3 to 4.9 metres and diving towers of 1, 3, 5, and 10 metres. For the younger swimmers, you will find a pool for children with a depth of 90 cm, as well as a baby pool dedicated to children under the age of 3 and their parents.  
Øbro-Hallen regularly offers baby swimming lessons, where parents can get information and inspiration on water activities with their child. English-speaking lifeguards are always on duty and available for assistance. 
Furthermore, Øbro-Hallen offers a variety of wellness activities to help you reboot and recharge. Here, you will find saunas in both the men's and the women's locker rooms, as well as a joint sauna area located right by the rooftop terrace offering a view of Østerbro Stadion and Parken Sport and Entertainment. Here, you can also experience sessions of sauna infusion therapy known as 'saunagus', which requires booking in advance through the website. 
If you really want to treat yourself, you can visit the health spa, which offers a caldarium, a Finnish sauna, light therapy and much more. The health spa requires separate entry fee. 
How to engage
Øbro-Hallen is open on weekdays and weekends, except for certain bank holidays. Øbro-Hallen operates with the concept of 'green time', which lets you use the facilities at a cheaper rate from morning to 15.00 on weekdays. The concept is aimed at improving the experience of the visitors by preventing a crowding of the pools. On the website you can keep up with the number of people using the facilities in real time in order to better plan your visit.  
If you have any questions, you can always drop by to have a chat with the English-speaking staff or reach out through the official website or Facebook page. 
For more information on opening hours and tickets, please: 
Visit Øbro Hallen's website (website in Danish)
Follow Øbro Hallen on Facebook