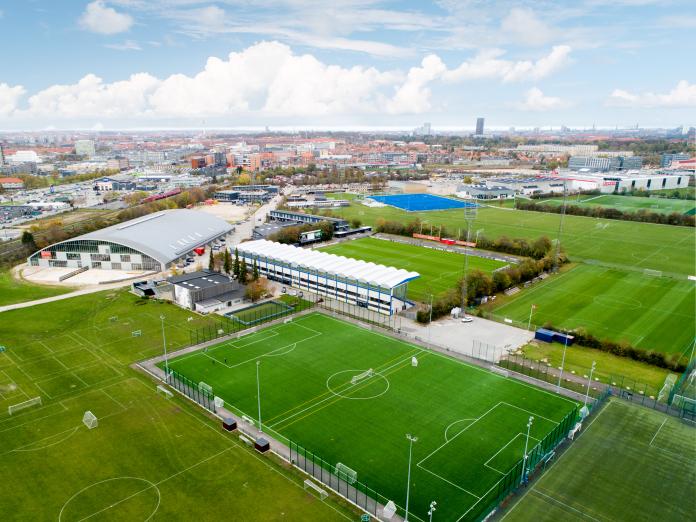 In addition to its wide variety of sports activities, it is known for hosting everything from concerts to flea markets.
What we are about
Built in 1984, Valby Hallen consists of four sports halls with one hall located separately. The facilities are used for a wide variety of sports and activities, including badminton, basketball, cricket, gymnastics, hockey, volleyball and much more. The primary users of the facilities at Valby Hallen are the different local sports associations, but individuals can book lanes and courts in the sports halls for private use.
In addition to its primary function as a sports facility, Valby Hallen is often used for larger events such as conferences, concerts and flea markets. During such events, the three connected sports halls can be combined into one, allowing for larger gatherings.
Valby Hallen is built as a self-service facility where users themselves are responsible for the setup and dismantling of equipment. For more information on events and how to book and use the facilities, please:
Visit Visit the official website of Valby Hallen
What we have to offer
The local sports associations make up the core of the activities at Valby Hallen. The associations cover a wide variety of different sports and are always open for new members, regardless of experience, skill and fitness. Across the different sports, a shared part is the focus on the social aspect, making the associations a great way to meet new people.
In addition to the individual sports associations, Valby Hallen is known for its inhouse café Buchard & Fobian, which offers food of a high culinary level and a cosy atmosphere, all at affordable prices.
How people can get involved
Membership of the different sports associations at Valby Hallen are managed directly by the associations individually. Most offer the chance of trying out the sport a couple of times before deciding on a possible membership. Each association varies in size, but all require a subscription upon joining. For more information on the different associations, and how to reach out, please:
Visit the official website of the sports associations at Valby Hallen
How to engage?
If you are looking to book one of the lanes or courts at one of Valby Hallens sports halls, please: