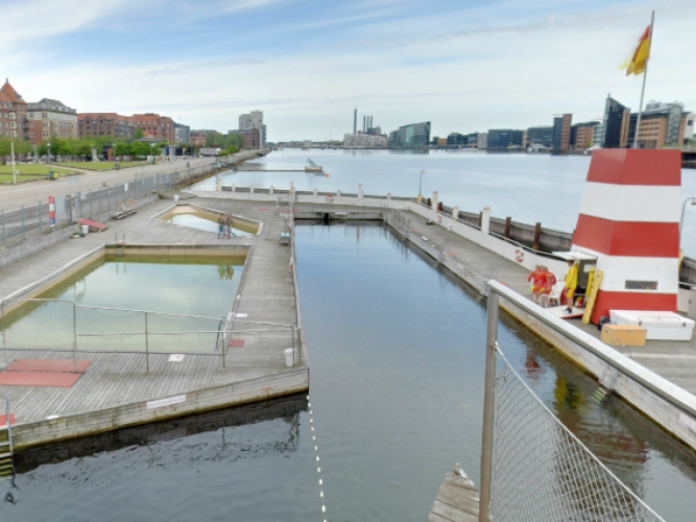 With five pools, three diving towers and a big lawn, it has become many locals' favourite spots for a hangout on a sunny day. Here, you will meet people of all ages – swimming in the water, playing ball games on the lawn or reading a book. At night people will usually bring drinks, music and portable grills, but even during winter you may catch a glimpse of local winter bathers. 
What we are about
Out of the three harbour baths in Copenhagen, Islands Brygge Harbour Bath was the one first built. With its opening in 2003 it quickly became popular among both locals and visitors, and has been so ever since. It has a capacity of 600 people and offers five pools, two of them specifically dedicated to children, with depths ranging from 30 cm to 7 metres. The harbour bath additionally offers diving towers, one, three and five metres high, respectively, and the quality of the water is being checked by the authorities on a daily basis. Islands Brygge Harbour Bath is monitored by lifeguards during the whole season – for more information on season opening dates and lifeguard staffing, please: 
Visit Islands Brygge Harbour Bath's Facebook page 
What we have to offer
During the season, Islands Brygge Harbour Bath is location for numerous events and activities hosted by both its visitors and the city of Copenhagen. Examples of activities from previous seasons are "Saturday Lifeguard", which offers children and young people from the age of 10 the opportunity to learn how to be a lifeguard , as well as everyday swimming lessons for children during the school summer vacation. To read about future events, check out Islands Brygge Harbour Bath's Facebook page, which will be continuously updated through the season.