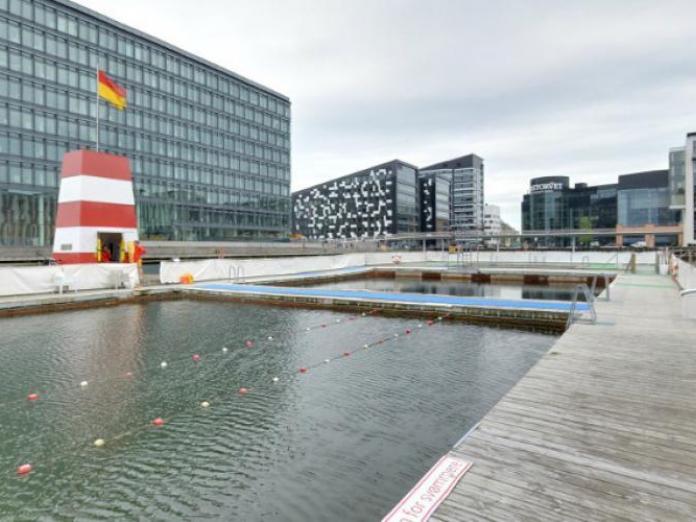 Right next to Fisketorvet Shopping Centre, you will find Harbour Bath Fisketorvet, making it ideal to combine your shopping sprees with a swim. With three pools, one of which is separated into lanes, three springboards and a surrounding terrace for relaxation, the bath is a popular location for serious swimmers as well as people enjoying themselves alone or in groups during the summer.  
What we are about 
Being one of the three harbour baths in Copenhagen, Harbour Bath Fisketorvet is a 650 square metre complex, which serves as an urban supplement to the beaches around the city. It offers three separate pools: A children's pool, a diving pool and a swimming pool, with a depth ranging from 70 cm to 5 metres. The harbour bath additionally offers springboards, one, two and three metres high, respectively, and the quality of the water is being checked by the authorities on a daily basis. The bath is monitored by lifeguards during the whole season – for more information on seasonal opening dates and lifeguard staffing, please: 
Visit Harbour Bath Fisketorvet's Facebook page 
What we have to offer
During the season from June to August, Harbour Bath Fisketorvet is sometimes location for events and activities hosted by different organisations and the City of Copenhagen. Examples of activities from previous seasons are Lifeguard Academy (måske knytte et par ord mere på; tror ikke folk ved hvad det er), hosted by TrygFonden and Dansk Svømmeunion (måske ligemeget hvem de star bag? Det siger dem alligevel ikke noget), as well as swimming lessons as preparation for Christiansborg Rundt – Copenhagen Swim. To read about future events, check out Harbour Bath Fisketorvet's Facebook page, which will be continuously updated through the season.