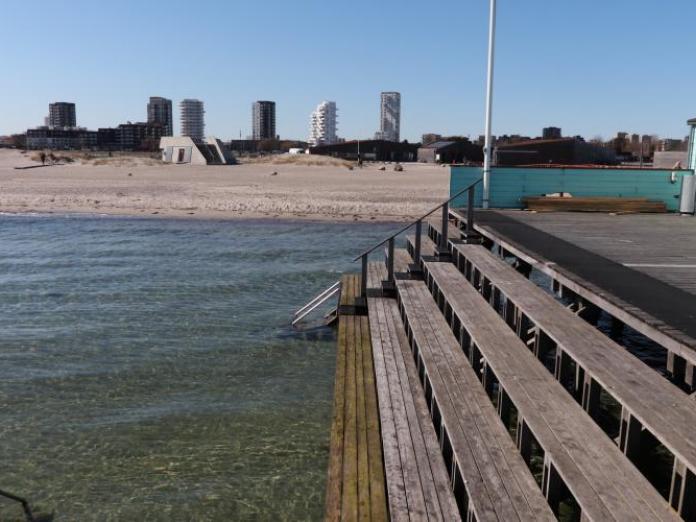 Helgoland is a wonderful, vintage-style sea bathing complex, with a trio of saltwater pools (two single-sex pools, one unisex pool). On its large wooden deck, the whole family can enjoy the sun during the summer, and if you fancy a cold dip, the beach is open to everyone throughout the winter, too. 
What we are about
Amager Helgoland is a bathhouse, which is located at the Northern end of Amager Beach. The prior bathhouse Helgoland reached the age of 90, before being demolished when Amager Strandpark was built. Four years later, a brand new Helgoland opened up in Amager Strandpark. 
The new Helgoland is designed by architect Carsten Hoff, and has the same turquoise colour as the old one – a colour only the bathing institution owns the colour code for. The wooden deck that encloses the basins is over 3000 square metres and stands on more than 600 piles.  
What we have to offer
Amager Helgoland offers three pools: One for ladies only, one for men only and one shared. It is location for different activities and communities: Among these are a diving club, a surfer community and a winter bathing club called "Det Kolde Gys" (which translates to "The Cold Thrill"). Members of Det Kolde Gys has access to a 55-square metre sauna with room for 50 people – if you are interested in becoming a member of Det Kolde Gys, read more about it here (website in Danish). Amager Helgoland is overseen by lifeguards during the high season – for more information about guarded hours, please:
Visit Amager Helgoland's official webpage (website in Danish)