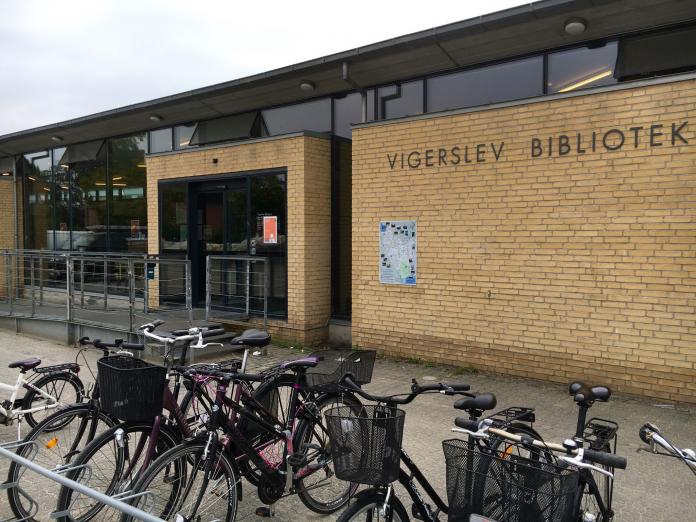 Vigerslev Library is a new and open library, located in a lovely neighborhood house, with high ceilings and low shelves that provide light and air for everyone. It is a place where all the area's residents can enjoy the lounge area, reading in soft chairs or using the open workshop-style space with adjustable tables. There is plenty of room for children too, with a nice play area and activities that have a special focus on them, young people and the local area - like the shared dining nights, reading clubs and community singing groups. 
What we're about
Vigerslev Library was built in 2004 and is located in the middle of a cozy neighbourhood, serving as one of the central meeting places. The library has recently been redecorated with special lighting, low shelves and furniture that is mobile and can allow wheels to go underneath - making it an incredibly accessible and versatile space. The library focuses on local collaborations, and is very open to supporting voluntary initiatives. Somewhat of a peaceful and an unknown gem - sitting alongside the Kirsebærhavens School - it fills up after hours when the school days are over. Families love visiting their children's department where they can play in the small shop, drive a car or sail a ship. But you can also use the space for a meeting, workshop or other event. There are two spaces you can book - one that fits up to 20 people, and a larger room that can hold up to 80 people - if you want to give lectures, practice yoga or organise a choir meetup.  
What we offer
Vigerslev Library has books in many different languages -  English, French, German, Arabic, Turkish and Urdu - for both children and adults. There are also adult books in Spanish. Perhaps you would like to set up a reading club or other volunteer-led initiative? Contact them via their website to find out more. 
How to engage 
Vigerslev Library is open at 7am until 8pm on weekdays, and 7am until 6pm on weekends. There are staff available to help you at limited times during these opening hours: from Monday to Thursday between 2pm until 6pm, Friday from 2pm and 4pm, and Saturday between 10am and 2pm. Outside of these hours you can use your health card to enter, which does not require a code. With this card you also have access to the entire library during the opening hours, and can borrow and return materials, use PCs, print, scan and copy materials - but you need to be a registered user to access all of this. You can set up your access with staff during the staffed hours or online via their website with your MitID. 
How you can get involved 
Do you have ideas for a reading club, chat group, IT help session or anything else? Contact the library to tell them! You might also like to join the Shared Dining nights, which take place about once a month - they are looking for volunteers to help setup and cleanup and are always happy to have new guests to dine with. Or maybe your children want to join the Coding Pirates and learn about coding, programming and digital projects? Check out their Facebook page or Instagram for more information about events like these.