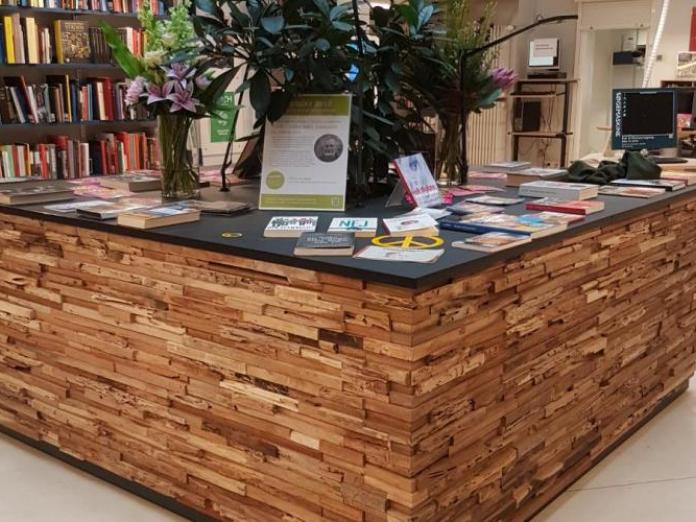 Here, you can immerse yourself in a good book, discover new literature, join a reading club or play with your child. The library hosts events monthly for both children and adults. 
What we are about
With just a two-minute walk from Valby Station right across the shopping centre Spinderiet, Valby Library is centrally located in the old part of the neighbourhood. Dating all the way back to 1721, the building is presumed to be the oldest building in Denmark housing a public library. It was originally built as a school for farmers' children and has since served as a technical school and fire station. Since 1917 it has been home to the library, and though the building has since been expanded, it still retains its old village atmosphere with its yellow washed walls and a little backyard. 
Internally, the library consists of one large room with several quiet and comfortable reading areas where you can relax and enjoy a good book. 
The large open room serves as a showroom for current literature, and you   can find inspiration for new books at the 'book bar' and the 'display wall'. Furthermore, Valby Library focuses on literary diversity and has several 'display spots' throughout the library where you can find inspiration for a different reading experience. 
For the younger readers, Valby Library has a children's section offering both a wide selection of children's literature as well as a place to play. 
In addition to its adult and children's sections, the library houses a study area where students and study groups can work, as well as a smaller reading room. 
Valby Library is home to several volunteer-driven communities. These include reading clubs, a study café, a knitting club as well as a creative writing workshop for children and young people. Throughout the year, the library hosts regular events for both children and adults and offers free legal counseling. 
What we have to offer
Valby Library has a strong focus on community and welcoming newcomers. If you are interested in joining an existing – orcreating a new – reading club, you can reach out to the English-speaking staff who can help you get started. 
In addition to its collection of Danish literature, Valby Library also houses a smaller collection of novels and magazines in English and other languages. You can also find newspapers and journals in Arabic, English, German and Urdu. 
If you are an artist, you can have your pictures or paintings displayed in the reading room, which can also be used to host an art reception. 
Once a week, the regular study café is transformed into a 'language help café' driven by volunteers at The Red Cross. It is free of charge and open to everyone. 
How people can get involved
Most of the activities and events at Valby Library are volunteer-driven, and new ideas are always welcome. So, if you have an idea for a new reading club, a conversation club, volunteer study help or a literature event, do not hesitate to reach out to the staff.  
For more information on how to reach out, please: 
Visit the official website of Valby Library. 
How to engage?
Valby Library is an open library, which means that visitors can borrow books and use the library's facilities unstaffed. Once registered as a library user, you can come and go as you please by using your Danish health insurance card. If you are interested in registering as a library user, you can do so on the official website by using your MitID. You can also reach out to the English-speaking staff on a visit to the library, if you prefer to do it in person.  
For more information on staffed and opening hours, please: 
Visit the official website of Valby Library or
visit Valby Library's Facebook or Instagram.