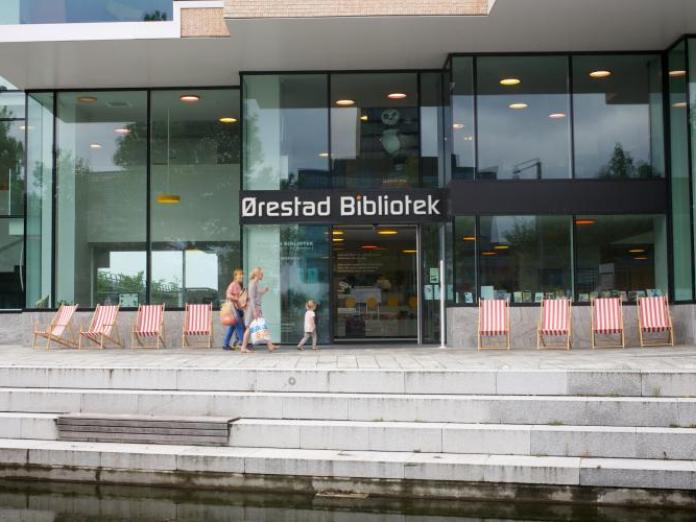 The library sees itself as a cultural hub for information, education and cultural activities and its goal is to serve the schools, the institutions and the workplaces of Ørestad. They actively promote an open, friendly and helpful environment, full of people - which means that it is rarely a place of quiet and tranquility but rather a lively space throughout, every day, every week. And that is how they like it. 
What we're about 
Ørestad Library is a combined public and school library that was opened in 2012. The library covers two floors - the ground and first floor - and 1370 square metres in a building designed by KHR Arkitekter. The building also houses Ørestad School and is a neighbour to Ørestad Gymnasium or high school. It is one of 20 libraries run by the City of Copenhagen's Library network under the Culture and Leisure Administration. It is a one-room style library where you will find school classes looking for books in the mornings, lots of families and students hanging out in the afternoons and activities taking place in the evenings and weekends all within the same space. 
What we offer
Ørestad Library has many international visitors because it is situated in an area that has many international students coming from Copenhagen University, only a few kilometers away. The students are always welcomed and often like to work on the library's first floor. Ørestad is one of the newest neighbourhoods in Copenhagen, and the area keeps expanding with many corporate commuters, families with children and expats living there. There is a very international vibe, and with so many nationalities visiting them they are all fluent in English. The library makes a point of including cultural activities in English into their planning, translating their activity brochures into English so everybody knows what is on offer. The library also runs a small tourist information hotspot in collaboration with Copenhagen Visitor Services. 
How to engage
Anyone can use the Ørestad library within its opening hours. To take out books you need to become a member, which is free of charge. To register your membership simply go to their website with your Nem ID and sign up. You may also do this at the library if you bring your yellow card. You can also access the library with your yellow card when staff are not available - from 7 AM until 10 PM - as a self-service activity. The library's first floor - with non fiction books and the study space - can only be accessed when staff are present. To find out more about the library's general services and regulations follow this link. 
How you can get involved 
The library does not officially recruit volunteers to help run their space but they are open to collaborations. As a small local library, they like to work closely together with the local community, so if you have suggestions for activities just get in touch with the staff and they will connect you to the right person to discuss possibilities. They always welcome new people with new ideas, but be mindful that all new activities must be non-commercial and open to the general public. Throughout the year, the library also hosts many different activities for families with an international concept called Family Club. This might include things like workshops on baking Christmas cookies, doing craft and hosting potluck dinners. The Family Club is run by expat volunteers and the library and most of their activities take place in the library with all communication in English. Take a look at upcoming club activities on their Facebook page.