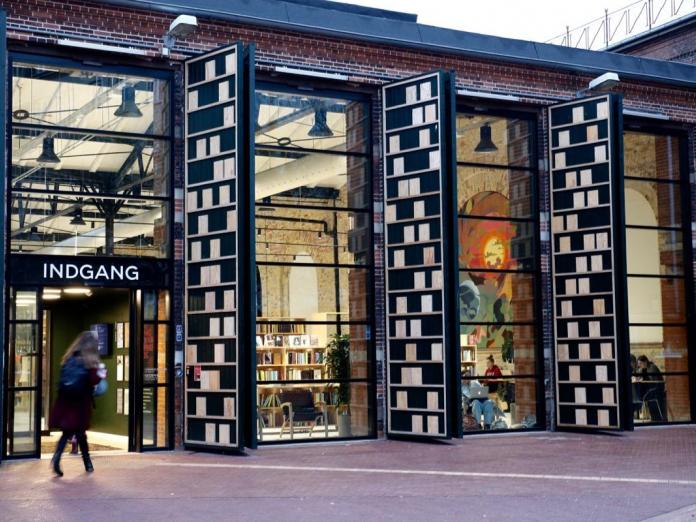 Open every day of the week, it offers selections of books, music and movies in several languages, and hosts cross-cultural activities for visitors of all ages.  
What we are about
Located in a century-old tram depot now housing the cultural and sports hub Nørrebrohallen, visiting Nørrebro Library is a truly unique experience. The beautiful Red Square just outside the library is a popular hang out for young and old alike offering iconic four-person swings, skate rails, a boxing ring and benches for relaxation. The library itself is designed with the purpose of creating a diverse, dynamic and welcoming environment. Here, you can find books in several languages for readers of all ages, games, movies and music, as well as a selection of foreign and Danish newspapers. 
As part of the vibrant and culturally diverse neighbourhood of Nørrebro, it is a place buzzing with life and languages from all over the world. From Monday to Friday you can join in on the variety of conversation clubs, where you can practice conversing in anything from French and Spanish to Arabic and Korean.  
With the aim of meeting its visitors at eye level and a focus on community, the library offers study aid for students as well as IT support and legal counseling for everyone. 
What we have to offer
In addition to offering a large selection of books in several languages, the drop-in conversation offer international citizens a forum to converse and exchange ideas and experiences, as well as the opportunity to socialize and network. For more information on the conversation clubs, please visit the website or Facebook page of Nørrebro Library. On the first Thursday of every month, you can get free legal counseling in the library from 17.30-19.00. 
Throughout the summer, the Red Square is host to numerous street food festivals and cultural activities. 
How people can get involved 
With its focus on community, volunteering is at the heart of activities at Nørrebro Library, so if you are looking for ways to lend a hand, do not hesitate to reach out. The library is always looking for volunteers to assist with ongoing as well as new activities. So, if you have an idea for a new project, you can stop by and have a chat with the English-speaking staff who can help you get started. Whether it is starting a conversation club in a new language or something entirely different, Nørrebro Library can help you out with practical assistance and free use of the facilities. 
How to engage?
The services of Nørrebro Library are open to everyone during opening hours. Visitors above the age of 18 can register for a library card using their MitID. Registration is swift and easy, and in 20 seconds you will be able to borrow books from any library in Copenhagen. Visitors below the age of 18 need the signature of a parent as well as their Danish health insurance card. For more information on how to register for a library card, please: 
Visit Copenhagen's Libraries' webpage 
For more information on opening hours, activities and how to use the facilities at Nørrebro Library, please: