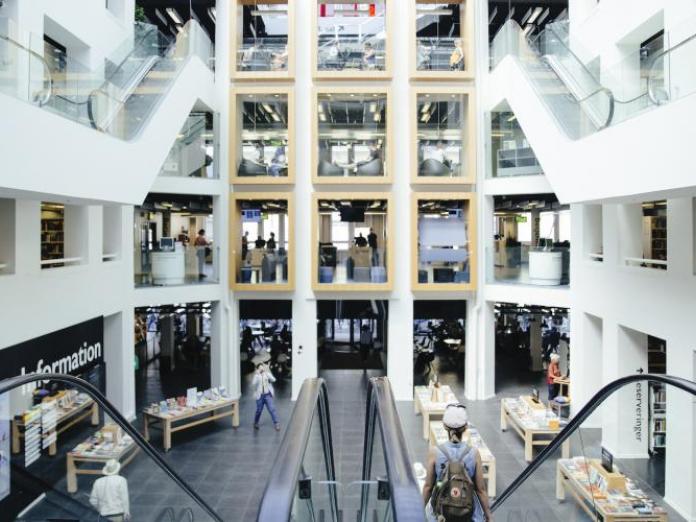 Centrally located, it is a bustling hub of activity hosting monthly events, weekly morning communal song, as well as 'Welcome to Denmark' workshops. As of the summer of 2020, Copenhagen Main Library offers the largest children's library in the city. 
What we are about
Located right in the heart of Copenhagen in the medieval part of the city near the Round Tower and Nørreport Station, the library is anchored in the history of the Danish capital. The library has dedicated an entire floor of about 1,000 m2 to books and activities for children aged 0-12 and their adults. The layout and design are based on neuroscientific research as well as studies of reading habits and language acquisition in order to create the best possible learning environment. The floor offers different activity zones as well as all practical necessities such as wardrobe, dining area and changing tables.  
In addition to its wide selection of physical books, Copenhagen Main Library grants access to a vast digital universe of e-books, audio books, dictionaries, as well as a broad variety of international magazines and newspapers through services such as PressReader and Zinio. 
Founded on principles of community and caring, the library hosts a series of social events and visitors of the library can find help and assistance concerning matters of IT and legal counseling, regardless of nationality and place of residence. 
What we have to offer
Workshops and events 
Twice a month Copenhagen Main Library hosts 'Welcome to Denmark' workshops, offering newcomers a chance to meet and network, as well as learn valuable information about Denmark, Danish culture and practical tips and tricks on adjusting to living in Denmark. The workshops aim to make your new life in Denmark easier, and no registration is needed.
Communal singing is deeply rooted in Danish culture, and every Wednesday morning at 8.30 up to 200 people gather to sing together for 20 minutes at Copenhagen Main Library. No registration is needed, and anyone can attend. 
If you are looking to meet Danes or other newcomers to share the joy of a good book, Copenhagen Main Library is home to numerous book clubs, each with its own interest, open to everyone. 
Recognizing the importance of literature, the library has devoted an area on the fourth floor as a dedicated space, where the book clubs meet for an hour and a half every four weeks. If you have an idea for a new book club you can reach out to the book club coordinator Pernille Stage: pstage@kk.dk.
Review the current book clubs here (some of the descriptions are in English)
Guidance and assistance 
On Tuesdays and Thursdays, the legal association 'Københavnske Advokaters Retshjælp' offers free legal counseling to any citizen, regardless of nationality and place of residence. Furthermore, every Wednesday you can get free help and assistance to digital services from volunteer staff at the IT-café at the library. To find more information, please:
Visit the website (website in Danish), or
Check out the Facebook-page
Borrowing books from Danish libraries is free, and if you are interested in registering as a user, you can do so on www.bibliotek.kk.dk using your MitID. Once registered, you can borrow books from any library in the city by using your Danish health insurance card. 
How to engage 
Find Copenhagen Main Library's openings hours at the website. English-speaking staff members are available during working hours.