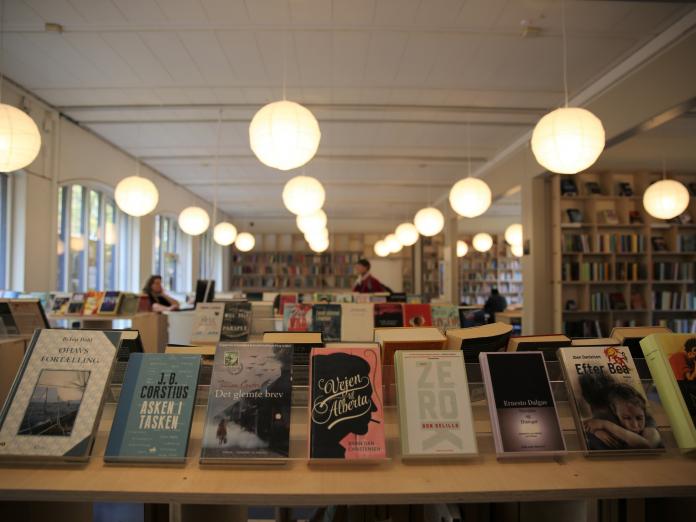 They specialise in helping people borrow something a little out of the ordinary, with a very special collection that includes many comic books for the young and youthful adults. You can also play board games, listen to music on vinyls and read today's newspapers and magazines in their lounge areas. The first floor houses a cozy and spacious children's library, with another reading garden open in the summer during manned hours where you can read, relax and enjoy the sunshine in peace and quiet. 
What we're about 
The Blågården Library is part of the Blågårds Plads precinct that includes Støberiet, civic house Kapelvej 44 and Korsgadehallen. The library shares rooms with Støberiet, and together they form a living house with lots of film clubs, concerts, exhibitions and other events. Designed by architect Ivar Bentsen, Blågårds Plads contains 22 sculptures by sculptor Kai Nielsen. In the middle of the square there is a tiled area intended for meetings and other musical and theatrical events, with the site also used a historical place for debates between different political groups. 
Like all other libraries, the library offers books on loan, but it is also possible to borrow a computer, print, copy and scan documents. There are also often exhibitions with local artists, as well as reading clubs, debates, literary events and creative workshops that you can attend. Every weekend from January to May and then September to December there are free cultural events - called Weekend for Kids - for children and their parents. The library also takes part in other annual events such as the Festive Feast, Christmas Market, Sankt Hans Evening, and a children's cultural festival in the Winter Palace. 
What we offer 
Blågården is open to everyone and runs solely for its users. All citizens are welcome to attend cultural activities, and if you need a cozy meeting place for your reading club, drawing club, board games club or any other similar initiative, you are always welcome to contact them. Both the cultural center and the library are happy to support your ideas. 
How to engage 
The library operates with both self-service and staffed opening hours. It is only during the manned opening hours - Monday to Thursday between 1pm and 6pm, Friday between 1pm and 5pm and on Saturday from 10am until 2pm - that you can get help from an employee. During the self-service opening hours - from Monday to Thursday between 9am and 1pm and 6pm and 8pm, Friday between 9am and 1pm, Saturday between 9am and 3pm and Sunday from 9am to 3pm - you will be in the library on your own and have the opportunity to discover its very special atmosphere and the energy it contains within its walls. You can access the library, and borrow or return materials, during this time by scanning your yellow health insurance card. 
How you can get involved 
There are different ways to volunteer at the library. There is a plant group that meets every Wednesday in the library to look after the garden and plants. You are also welcome to help with the planning and running of events, concerts and festivals - or create your own. If you would like to participate in an activity at Blågården, or would like to take part in some of the already existing events, you can always contact the relevant person for each activity as listed here:  
You can also visit their office at Korsgade 30, during normal business hours and talk with staff about how they can help you with your idea. They can also give you information about running various cultural activities - from large and small events to exhibitions, concerts, debates and festivals - and provide guidance and support for your idea development, as well as information on permits, planning, and the chance to borrow equipment and a location.