Vesterbro Bibliotek og Kulturhus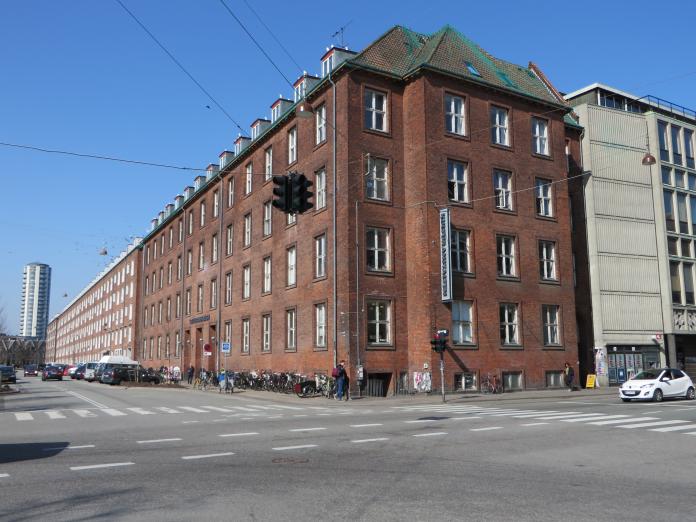 Vesterbro Library and Culture House is located in the heart of Vesterbro, with great views of the Enghaveparken, where people gather to sit on the grass in the summer and skate in the winter.
In the lounge room there is an adult library with lots of places where you can read today's newspapers, work or read. Tove's Room is named after a great Danish author Tove Ditlevsen, who was born and raised in Vesterbro just behind the Culture House. The first floor contains the city's largest children's library, with sections for all ages. There is also a teddy hospital for the very young, and a game room with pinball machine and arcade machines for the slightly older children. You will also find meeting rooms, three dance and activity rooms and a pottery workshop that can accommodate 800 users. The old basement now houses an 'underground' space for music and art events and exhibitions called Basement.
What we're about
Vesterbro Library and Culture House was originally a bathhouse, which means that the building consists of several levels and different types of rooms making it possible to offer an array of versatile activities - from its basement to the attic. It is easily accessible from the metro, bus and S-trains and extends across the corner of Enghave Plads, housing many students and other local residents from Vesterbro who enjoy being there. With experiences for the brain and heart, the culture house's three dance and activity rooms are incredibly sought after for swing, salsa, folk dance and many more classes. The rooms are also used for gymnastics and yoga in the mornings on weekdays, with a popular open playroom for smaller children and their parents too. On-site meeting rooms can accommodate for up to 30 people and can be rented out for meetings, classes and workshops. The pottery workshop is particularly popular, and even with space for 800 users on two floors, there is a very long wait list. Additionally, there is always an exhibition of pottery works, made by the users, in the foyer that you can enjoy, or many other classes available too. The venue Basement is host to concerts and exhibitions, with the pulse of the underground alongside you.
What we offer 
The Adult Library has a large selection of English literature, with cultural events in the evenings each month. There is also adult literature in German, French, Spanish and Swedish, as well as a range of foreign magazines. For children, there are creative workshops, movie screenings, and game days where the children's library is filled with lots of game consoles and virtual reality activities. There is also a teddy bear hospital and a grocery store, which the young children always love. Children's literature is available in English, German, French, Spanish and Swedish.
Access to the pottery workshop requires a membership, but you can sign up for many other different paid pottery courses, which run over several weeks of the year so you can still get clay between your fingers without waiting. There are also a lot of other clubs in the culture house including a knitting club and ten reading clubs. On Tuesday and Thursday evenings, free legal aid is also available, and if you need a space for a meeting, workshop or class, you can easily rent one the many meeting rooms on hand.
How to engage 
Vesterbro Library and Culture House are open almost all year around, from morning to evening. Be aware that the library is only manned with staff during certain specific hours in the afternoon and on Saturdays. In the evenings and on weekends, you will need to bring your yellow health card to enter, but using and staying in the library is always possible during business hours. Find out more about this on their website. There are a lot of things to do in the Vesterbro Library and Culture House, but most things require pre-enrollment. Check out their Facebook page for more information about what is on, and if you are looking for a concert in Basement, have a look at their calendar first.
How you can get involved
Vesterbro Library and Culture House are always open to ideas for reading clubs, chat rooms, volunteer options, homework help, or people who want to make literature or debate events. Contact them via their website to find out more.