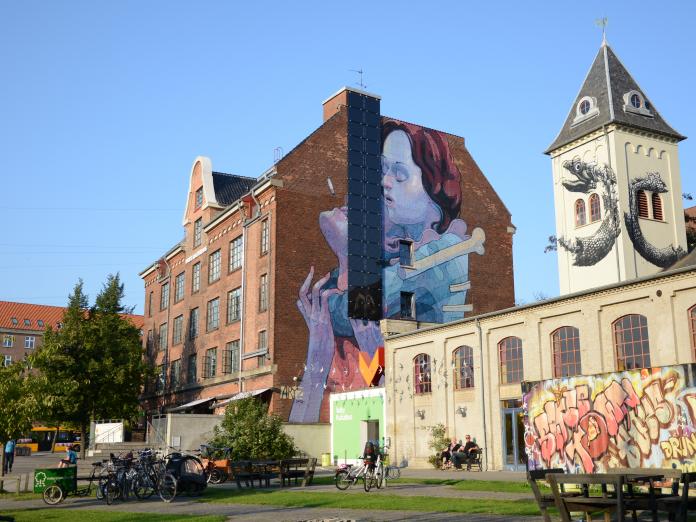 It offers education, exploration and expression for young and old alike, and supports non-profit creative projects.
What we are about
Located in the heart of Valby near the old bus terminus at Toftegårds Plads, Valby Kulturhus is the cultural centre of the neighbourhood. Here, you can find cultural activities year-round to fit any taste. The building itself used to house the paint factory Stelling dating back to the 1900's, and its many square meters offer a wide spectrum of cultural activities. Furthermore, visitors can book and rent the facilities for meetings, workshops and private gatherings of anything from 20 up to 200 participants. Facing the square at Toftegårds Plads, you can enjoy a meal or refreshment at Café Incita, a social-economic café often offering cosy communal dining for a good cause.
What we have to offer
Valby Kulturhus is home to several creative and artistic activities with a focus on learning and exploration. Here, children can learn to dance, act, play music, and adults can learn how to do ceramics or croquis. Valby Kulturhus is an internationally minded environment with English as a shared language, and the different communities are no strangers to welcoming international users. For instance, on Thursdays you can join Blues Dancing Copenhagen for a night on the floor in a social and relaxed environment. If you are looking for hands-on creative work, you can visit the shared, open access and shared tool workshop Copenhagen FabLab, which is permanently housed on the fourth floor.
Furthermore, throughout the year, Valby Kulturhus hosts several English-based events.
How people can get involved
Valby Kulturhus is home to several volunteer communities which welcome new members on an ongoing basis. The fourth floor houses several creative communities, including a ceramics workshop, the open atelier and digital communities, such as Copenhagen FabLab and Digitaliseringsværkstedet København.
If you are a practising artist or creator, you are able to do your project at Valby Kulturhus, and for non-profit projects you can use the facilities free of charge.
For more information on how to start using the creative facilities at Valby Kulturhus, please:
Visit the official website of Valby Kulturhus
How to engage?
Throughout the year, you can find events going on at all hours at Valby Kulturhus. It is an open access facility, but entrance during evenings and weekends requires use of your Danish health insurance card. In order to make the best of your visit to Valby Kulturhus, it is recommended to check out the event calendar, either on the official website or Facebook. For more information on opening hours and upcoming events and activities, please:
Visit the official website of Valby Kulturhus or
Visit Valby Kulturhus' Facebook page