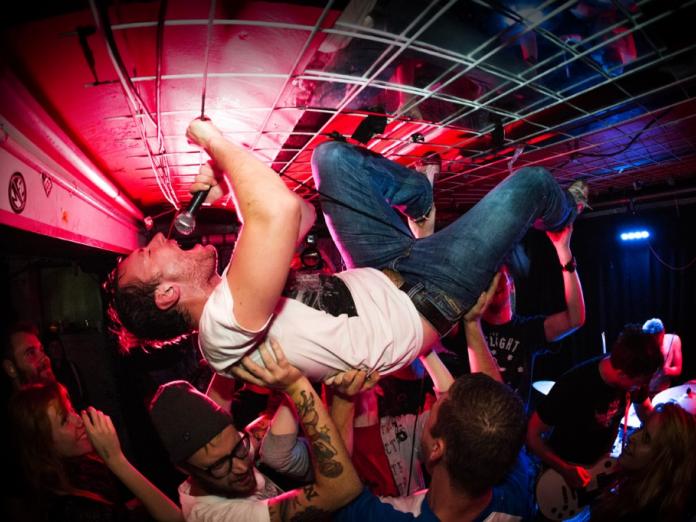 Underwerket is an intimate music venue in Valby supported by volunteers and with a focus on booking international bands on tour from different underground genres. Located in a small basement, it is known for its unique vibe and atmosphere not found at other and larger venues. 
What we are about  
Underwerket has been around since 2010 and is curated by a collective of independent event groups, all with a focus on attracting international bands on tour to swing by Valby. 
Everything from booking and cooking to PR and manning the bar is carried out by volunteers. Underwerket is part of Kraftwerket, a creative community that has several venues across Copenhagen and helps creative young people carry out their dream projects. 
The facilities housing both Underwerket and Kraftwerket is a former office building for the paint manufacturer Stelling dating back to the 1900's. The building later served as breakroom for the bus drivers using the outside square as terminus for their routes. 
What we have to offer
Besides hosting a wide variety of concerts of different genres, Underwerket is a community of music lovers, and as a volunteer-supported venue, it is always looking for fellow enthusiasts to join in and help out. 
The volunteer community is centred on a passion for music of all genres with an atmosphere similar to the underground scenes of Germany and France. The community is known for its diverse international makeup, and English serves as the primary language. It is based on principles of diversity, dependence and curiosity, reflected among both its guests and volunteers. 
How people can get involved 
Twice a month Underwerket hosts information nights for new as well as current volunteers. Here, you can learn about the different venues and which types of roles and tasks you can help out with. The first hour consists of a general introduction including a question and answer session. Directly after, you get the chance to volunteer for your first shift to try out as a volunteer. If you enjoyed your shift, your designated organizer will help you with information on how to sign up for shifts and how to join the volunteers' community on Facebook. After your third shift, you will be handed a "volunteer agreement" to sign as a way to ensure that your time as a volunteer will match your expectations. 
If you are unable to attend an information night, you can reach out to community manager Mie Behrmann on her e-mail for more information on how to get started. If you are interested in becoming a regular organizer at Underwerket, you can stay up to date with its Open Calls or reach out on the official e-mail. 
More information on upcoming information nights will be shared on Facebook. 
How to engage? 
When you show up for your shift as a volunteer, you will be met by the event organizer as well as the technician at Underwerket. They will help you get started and show you all practical matters related to volunteering, from using the register to changing the kegs. 
Though Underwerket may be your preferred venue, you will become part of a large community of volunteers which also covers the venues of Råhuset, Basement and Stairway. Once you have gotten access to the roster, you can take shifts at any of the venues. In accordance with Danish regulation as well as the popularity of events, volunteers need to be above the age of 18 and to be able to take two shifts a month. Most activities at Underwerket and the associated venues take place in the evenings and weekends.