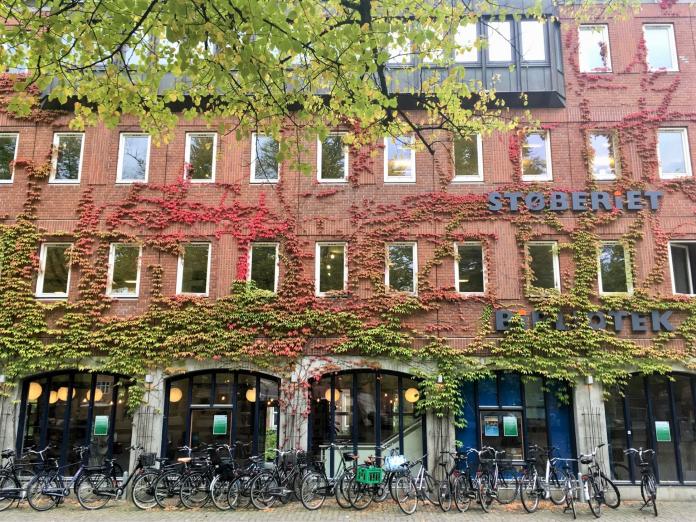 Støberiet - or the 'foundry' - is a cultural and civic house in the heart of Nørrebro that is part of the cultural hub at Blågården, which contains Blågården's Library, Kapelvej 44 and Korsgadehallen. They offer great facilities and space for subcultures - underground and local artists - and also for the wider public and local residents. They enjoy being part of an active local environment with a large group of associations, organisations and people already affiliated with them, serving as a gathering point and civic space in the area around Blågårds Plads.  
They host a multitude of different activities and events that you can take part in, as well as annual recurring events in the square such as a Festive Feast, Christmas Market, Christmas Tree, Sankt Hans Evening, Light Arts Festival and the cultural festival in the Winter Palace. They are also part of the annual cultural festival 48TIMER. On the second floor you can settle down with a cup of coffee from the vending machine, play board games, meet with a study group or just hang out. Typically it is open from Monday to Friday between 9am and 4pm, with self service access between 4pm and 10pm or by appointment with staff.  
They also have a workshop and facilities - located at Korsgade 30 - where you can meet with your drawing club, make cultural events and more. If you want help getting started on a project, finding out about hiring a room, checking out upcoming events or being a partner check out their Facebook page. 
What we're about 
Støberiet houses several open and free movie clubs, Repair Café, art exhibitions, a cultural café, concerts and more. Every Thursday you can dive deep into music and its technique with CPH Music Maker Space. On the large third floor you might want to join in on a dance, yoga or even a juggling session - there is always an interesting range of ​​activities on, and also room for more. If you have an idea, project or activity you want to explore, email them for more information or drop past their office at Korsgade 30. Here you can meet their friendly and helpful staff during regular office hours, usually Monday to Friday between 9am and 4pm. 
What we offer 
Støberiet is open to all citizens - especially the international ones. As an international and non-Danish-speaking citizen, you might benefit most from activities that are communicated in English and those that do not require specific language skills like concerts, art exhibitions, dance and the CPH Music Maker Space. Check out the what's on in Nørrebro webpage to find out more. 
How to engage
Støberiet is open Monday to Friday from 9am until 4pm, with further self service hours between 4pm and 10pm or by appointment with staff. On Saturday and Sunday it is also self-service hours between 9 am and 10pm or by appointment with staff. 
How you can get involved 
Støberiet is always very interested to hear from its international citizens who dream of leading their own cultural activities using their spaces or facilities or in the local urban area. If you are passionate about launching your own event or ongoing activity, email them or drop past the office at Korsgade 30. Friendly and helpful staff are available during regular office hours, usually Monday to Friday between 9am and 4pm. You can also reach out directly to the specific people in charge of different activities: