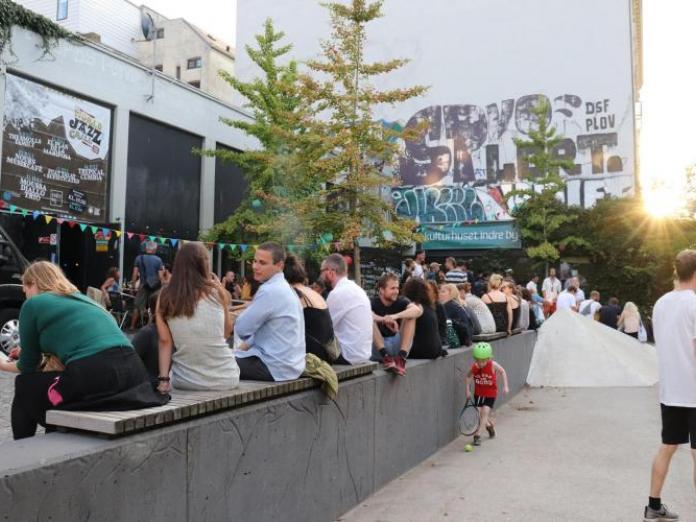 Located in an old tram depot, it offers everything from street performances and skating to cultural events for young and old alike. During the summer it is a favoured hang-around place for locals enjoying take-out in the sun.
What we are about
Founded in the old tram depot in 1978, Kulturhuset Indre By is among the first citizen-driven culture houses in Copenhagen. Since its founding, it has been used by all types of Copenhageners due to its prime location, whilst remaining quite the hidden gem. From early morning to late at night, seven days a week, you can rent sports fields for basketball, badminton, floor hockey, volleyball, table tennis and dancing. 
Inside, Kulturhuset Indre By hosts a variety of concerts, talks, spoken word events, film showings, flee and art markets and much more. On weekdays, you will find a variety of associations having sessions in breakdancing, salsa, philosophy, African drums, language, as well as an open café.
Kulturhuset Indre By is part of the unit DIT:KBH, which also counts the cultural institutions Kraftwerket, Huset KBH, Krudttønden, Villa Kultur, Onkel Dannys Plads, Basement, Union and Stairway. 
What we have to offer
Events at Kulturhuset Indre By are created in collaboration with both the local and international citizens who use the centre. Several events are English-based, including swing and lindyhop concerts, dance Sundays, art school, boardgame development, improv comedy, food festivals and more. Most events are free or have a low entry fee and a particular focus is on events furthering climate and environmentally friendly behaviour. 
How to engage
The doors of Kulturhuset Indre By are open daily from 6 in the morning until 11 at night, except for certain bank holidays, and the centre is staffed on Wednesdays and during events. For visits early morning or late at night, you will need to scan your Danish health insurance card in order to enter, and use of the facilities requires registering in advance. 
You can book badminton courts online up to 31 days in advance, just remember to bring your own gear. 
If you want to learn about specific activities for you and your loved ones, you can always reach out to Kulturhuset Indre By via e-mail or visit their Facebook page and website. 
Follow them on Facebook
Follow them on Instagram
Visit their website (website in Danish)
How you can get involved
With a history of citizen-led activities, you can chip in with ideas of new projects, or become a volunteer helping out with the different events each month. If you have a special expertise you want to offer, you can even become a mentor for the house profile project, which aims to address the different agendas shaping our society. 
Have an idea for a project or event?  
Send them your idea (website in Danish)