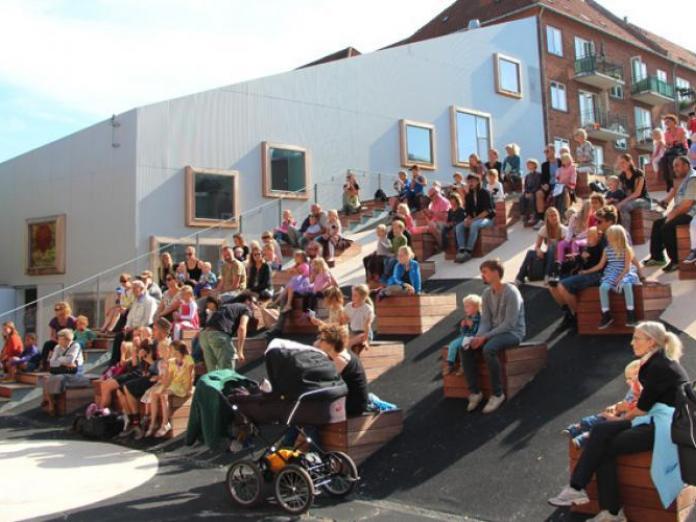 What we are about
Culture and creativity are at the centre of Børnekulturhus Ama'r, which works for all children's rights to cultural exploration. Here, every activity is based on the children's premises with the aim of giving them a joy of culture and creativity by encouraging curiosity. The purpose is to give children the opportunity to have fun and to improve themselves in creative processes together with others, to develop their understanding of themselves as world citizens as well as to strengthen their self-esteem. 
Around 700 children and adults visit Børnekulturhus Ama'r every week. 
What we have to offer
Børnekulturhus Ama'r is known both for its wide variety of creative activities as well as for being an architectural experience in and of itself. Here, both children and their parents can explore the crooked, colorful and imaginative building, as well as sign up for classes, workshops, concerts and theatre. Occasionally, the centre hosts communal dinings following performances, and Saturdays offer a variety of drop-in activities such as infant rhythmic courses and creative workshops. During school breaks Børnekulturhus Ama'r organizes cultural camps and festivals, and during the summer holiday the centre temporarily moves to the nearby beach at Amager Strand with free activities for a whole month. 
You can find all upcoming events on the web and Facebook page, and you can buy tickets for activities online or at the entrance. 
Check out the activities on Facebook
How you can get involved
If you are a family looking for activities, you can check out all upcoming classes and events on Facebook and sign up through the webpage. You can attend courses on everything from dancing and choir to yoga and drawing, go on explorations of all the nooks and crannies of the imaginative house, and even host your birthday there.
Adults are only allowed in company of children, and children must always be accompanied by an adult. If you want to visit our cultural centre out of architectural or creative interests, please reach out to us beforehand. Institutions and schools always book ahead, due to limited space.  
How to engage
Børnekulturhus Ama'r is founded on ideas of shared ownership and responsibility, which means that there is no reception or information desk to greet you by the entrance. You can always find English-speaking staff, but you are free to explore the open areas and the many shapes and colours shaping the building. Here, everyone helps to take care of the interior, cleans up after themselves, and makes sure no child is left unattended. Above the stairs you find a sitting area where you can buy a cup of coffee and bring your own snack.  
To sign up for weekday courses, get an overview of all upcoming events, and buy tickets for concerts, events and festivals through, please
Contact
Børnekulturhus Ama´r
Øresundsvej 8B